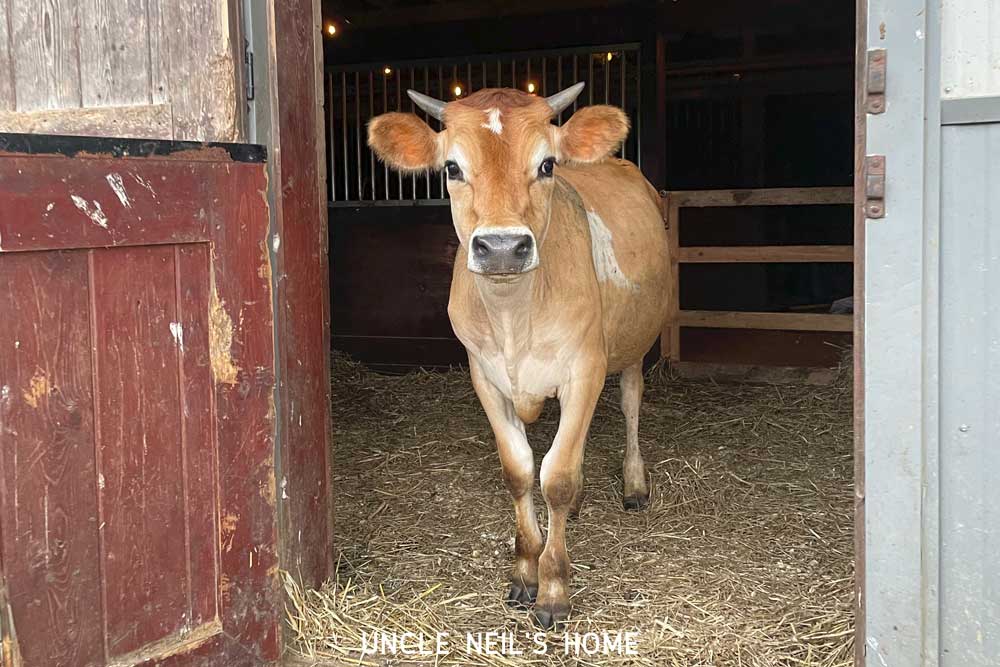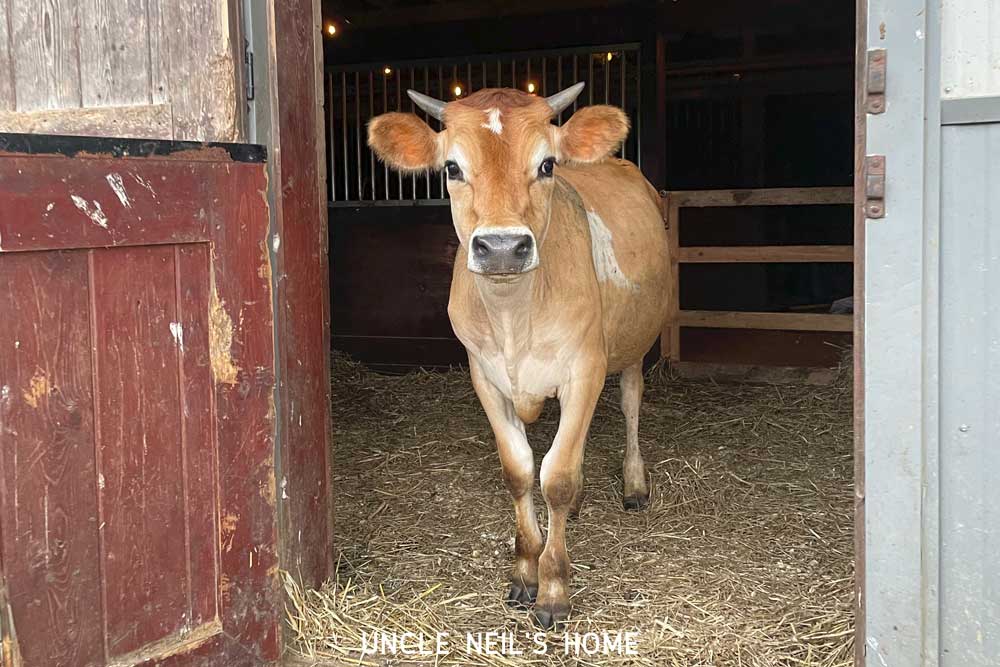 Hugo's story
Hugo was born a bull calf on a dairy farm in Massachusetts in August 2020. Because he was born male, he faced imminent death as male calves don't produce milk and are viewed as waste products by the dairy industry. We heard that he needed rescue, and we knew that we could give him a life full of love that he deserved. We arranged for transport from Massachusetts to New Jersey to bring him to Uncle Neil's Home as soon as possible. On his car ride down to the sanctuary, he met his best friend and soulmate, Ollie. Ollie was also coming down to Uncle Neil's Home from another dairy farm, and they took the long trip together. Hugo arrived in early September 2020 when he was only one week old, and his shy, quirky personality has been developing ever since.
During his first few weeks of life, he had the cow zoomies around the pasture every day! Each morning and evening after his bottle, we let him out into the pasture to run and play with Ollie. Hugo lived in a veal crate at the dairy farm, and this was the first time he felt the grass beneath his feet. He was a healthy, strong, happy boy, and the most joyous little calf. When he became confident and big enough to join the big cow herd at around 3 months old, he blended in with ease. Our older cows love him so much, and watching them bond and form their own families has been amazing.
Hugo is the most shy out of the herd at the sanctuary. He didn't start to fully trust us until he was about 9-10 months old due to trauma that he experienced before he was rescued. He has formed a very close bond with Minnie, one of our cow residents. Hugo absolutely loves her. He started to follow Minnie around when he was still just a baby and only as tall as her leg! Now, many months later, he still adores her and follows her everywhere. There is never a time when they aren't by each other's sides. Hugo and Minnie happen to be our two residents who like to keep to themselves the most, so the fact that they formed their own special bond with each other is so special.